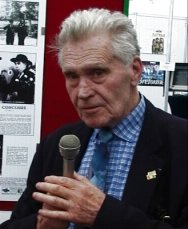 Polig Montjarret : "Le biniou-coz fait pleurer
le coeur des bretons !"
It is just before the war at the Saint-Loup in Guingamp. Polig Montjarret, or Polig An Dioul, was incensed to hear singing out of tune, and music-making off the beat. He realised that if quality was to be restored to Bretonmusic, the people would have to mobilise. In 1949 the Assemblée des Sonneurs, the BAS, Ar Bodadeg Ar Sonnerien was launched.

For the 50 pipers of that era, there are now thousands, and with a good degree of mastery of their instrument. In the same era, the bagads started to appear, inspired by the Scottish pipe-bands. In March 1941 at an exhibition at Mordellesin Ille-et-Villaine, Polig Montjarret is bowled over in admiration for a bombarde, a sort of oboe. "With a tinypipe of just 22 cms you could play a symphony! I thought it was fabulous ! I was 20 years old, and bought it at once, and haven't touched the violin since."